Items For Sale Through Caring Canines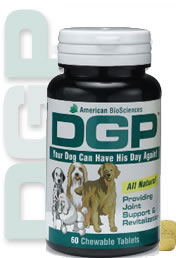 * Supports Joint Function
* Enhance Mobility and Demeanor
* Brings Out the "Puppy" In Your Dog
Aches and pains reduce your dog's enjoyment of life
and our enjoyment of their company.
Running, walking, getting into the car or just rising to greet you
become painful ordeals.
Let DGP (Dog-Gone Pain) help your dog become the same
carefree and playful member of the family he or she used to be
and wants to be again!
It's a complete, all-natural formula that enhances your dog
physically and mentally.
Available to you at the club price of
$35.00
To Order Email Club:
Caringcaninesfl@aol.com